The formal awarding of the Seal of Good Education Governance (SGEG) was the most awaited event of the 8 LGU-awardees from Luzon cluster. On May 30, 2018, Mayor Rex Gathalian and the City of Valenzuela generously hosted this momentous event with the complete attendance of the mayors of 7 other recipient LGUs. They were: Mayor Ignacio Rivera of Tuba, Benguet; Mayor Mario Guillermo of Diffun, Quirino; Mayor Norma Miguel of Diadi, Nueva Vizcaya; Mayor Eufemia Dacayo of Solano, Nueva Vizcaya; Mayor Ronelie Valtorribio of Villaverde, Nueva Vizcaya; Mayor Francisco Fontanilla of Bacnotan, La Union; and Mayor Magno Wailan of Santol, La Union.
In his opening message, Mr. Nathan Hilgendorf, USAID Contracting Officer, said "USAID believes that education is a driver for development and reducing poverty. It transforms individuals and society. Education creates pathways for better health, economic growth, sustainable environment and peaceful democratic societies. The US Government believes in the strength of education so it works with the Philippine Government to expand access to inclusive quality education especially to the most marginalized and vulnerable." He acknowledged and thanked PLDT and Smart Telecom for helping the government deliver quality basic education for the Filipino children. He commended the LGU partners for being champions of education governance. "The LGUs are a model for how strong community involvement in identifying education priorities and improving learning can reap widespread benefits to the community as a whole."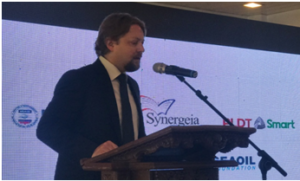 Mr. Nathan Hilgendorf, USAID Contracting Officer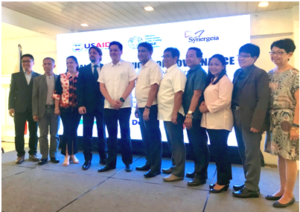 From L-R: PLDT/ SMART's Darwin Flores, Mayor Guillermo, Mayor Dacayo, Mr. Nathan Hilgendorf of USAID, Mayor Gathalian, Mayor Fontanilla, Mayor Wailan, Mayor Rivera, Mayor Valtorribio, Mayor Miguel and Dr. Nene Guevara
The SGEG winners each received the SGEG metal marker, School in a Bag and a technology incentive package from PLDT and Smart Communications worth up to P1.5 million each, and cash prize of P30,000.
In his remarks, Mayor Ignacio Rivera of Tuba, Benguet thanked USAID, PLDT/ SMART, and Synergeia, and shared that "The supplementary books you have provided for our Reading Program have made learning in Tuba better. For this year, we plan to have a more dynamic learning program for our Grade 4 to 6 students. We hope that PLDT and Smart will support us and be our untiring partner in uplifting the quality of education of children in Tuba."
Nueva Vizcaya winners were also thankful. Mayor Ronnelie Valtorribio of Villaverde said that the SGEG will serve as an inspiration to the LGU and its stakeholder partners to continue the effort to enhance and widen the scope of projects in education. "Everyone in Villaverde works as one to achieve our dream of a brighter future of our children." Mayor Norma Miguel of Diadi said they will continue to intervene through programs that will "improve the academic performance of the least and lost learners, and strengthen school and parent partnership." Mayor Eufemia Dacayo of Solano promised to work even harder for the children. "I wish to introduce a project called Solano CARES or Children's Achievement and Enhancement on Reading in School which will focus on teaching reading to children during summer."
Diffun, Quirino's Mayor Marlo Guillermo's message inspires us. "I would like to convey our gratitude to USAID, Synergeia and Smart for making this possible to us and other LGUs. Synergeia has taught us the value of shared governance in education and the importance of involving the community, school, DepEd, parents and teachers. We have been nurtured and loved by Synergeia because of our commitment to serve and perform our responsibility in education."
Mayor Magno Wailan of Santol, La Union believes that education is everybody's business. "As the saying goes, "We train a child in the way he should grow." In Santol , we make sure that education is well taken cared of because the children will be our future leaders. A strong nation is an educated nation." Mayor Francisco Fontanilla of Bacnotan recognized his Vice-Mayor and the DepEd officials of Bacnotan as his "co-awardee." "I always emphasize to my fellow Bacnotañes that competition does not end when the winners are called and prizes are given, and sound education records are presented. The essence of this award is sustaining the shared vision and collective efforts by the people in the community who are generally concerned for the education of all 45,000 Bacnotañes children. May these award and incentives serve as reminders that we have a lot of work to do."
Mayor Rex Gatchalian of Valenzuela City expressed his joy by thanking USAID for giving them the opportunity to discover and maximize the potential of their children. "Welcome to the great City of Valenzuela! I'm sure that every mayor including myself will say that their city or municipality is probably the most beautiful in the country and it is absolutely true. However, after being a mayor for five years, a city becomes more beautiful if you are able to unlock the potentials of children. The take away is that I would like to thank Synergeia and USAID and Smart for giving LGUs the avenue to be creative in unlocking the values of our children. Whenever children's values are unlocked, when they learn to read, when they learn to sing, then the municipality becomes beautiful!"