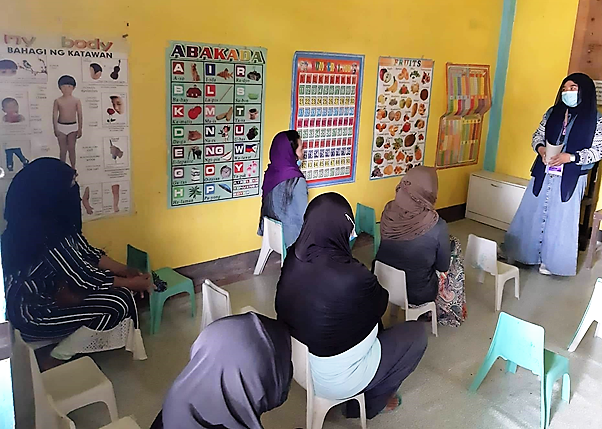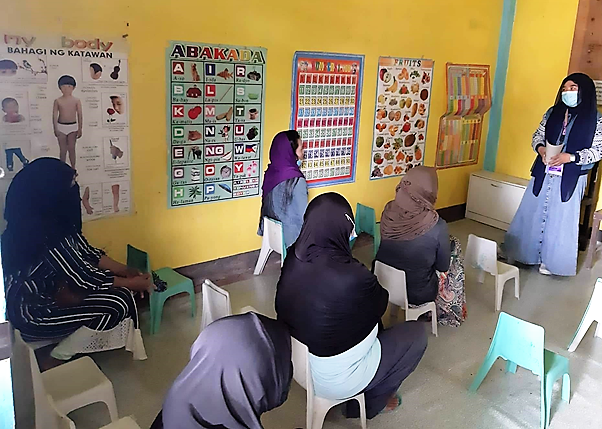 By Manolo Serapio Jr.

Like her six-year old daughter, 25-year-old Raquela Pangantapun from the province of Lanao del Sur is learning to read and write for the first time, thanks to an adult literacy program that is helping parents help their children learn remotely.
Pangantapun is among 100 or so parents in the municipality of Masiu who either did not complete their primary education or did not go to school at all and are being taught by a team of teachers and volunteers.
"As I teach my daughter to write her name, I also learn to write my own name," she says. "It makes me happy."
With the coronavirus pandemic shutting schools and forcing children to learn from their homes, many unschooled parents are unable to take on the teacher's role, prompting educators to step in.
The program called Siyap, Ugop ko mga Loks – which in Maranao means Care and Help for Parents – or SULO is the brainchild of Nihayma Macasindil, public schools district supervisor in Masiu. She said it is meant to address the grievances of parents who felt they were ill-equipped to mentor their children at home.
"Many parents were thinking of making their children skip school because they can't possibly help them at home. So, I thought why not give the parents basic literacy lessons?" says Macasindil.
SULO, which means lamp, began in November and the literacy sessions are done twice a week. The participating parents are spread in small groups and are given basic reading and writing lessons by teachers and volunteers in the barangay learning center or open areas with strict compliance to safety protocols.
The program covers parents of kindergarten to Grade 3 students in three schools. Macasindil said they plan to roll it out in more schools and barangays after they do an assessment of SULO this month.
Spurred by the literacy program, Pangantapun plans to enrol in an Alternative Learning System when the quarantine restrictions are lifted.

Functional SGC

Some parents joined the program because they want to be able to vote on their own during the national elections in May 2022.

"Those who can't read or write are usually assisted by someone else in the polling stations who end up voting on their behalf. A lot of times they're not sure they get to vote for who they want," said Macasindil.
The 35-year-old mother said she was inspired to do more for the community with the rollout of School Governing Councils (SGCs) in Masiu by Synergeia Foundation in February last year in partnership with the United Nations Children's Fund and the Government of Japan (GOJ).
SGCs help craft school improvement plans and participate in formulating school policies and programs that will benefit learners. Parents, barangay officials, teachers, non-government organizations and anybody who can devote time and self in improving the education of children can be part of SGCs.
"I used to leave everything to each school. But now I have learned to step in because we need as many stakeholders as possible to help us in the education of children," said Macasindil.
As it works with 429 local governments across the Philippines to improve the quality of basic education, Synergeia holds workshops to help mobilize SGCs and make them functional. Synergeia guides SGCs in preparing action plans, complete with a simple budget and sustainability feature.
Functional SGCs and the involvement of the community in helping parents and children during the pandemic are among the criteria that Synergeia will use in choosing which cities and municipalities to award its annual Seal of Good Education Governance.
The next batch of Seal recipients will be announced during the 14th Washington SyCip National Education Summit to be held virtually on March 25-26. It will be streamed live on Synergeia's Facebook page.
Grade 5 teacher Sahria Pangandaman, among the teachers for SULO, is in awe of the parents who are part of the program.
"They already have families but they're very determined to learn. They're helping themselves and they're able to guide their children somehow with their modules," she says. "That's quite inspiring."