Barangay leaders from the Autonomous Region of Muslim Mindanao (ARMM) pledged to work for the improvement of education during Synergeia Foundation's workshop last week under USAID's Education Governance Effectiveness (EdGE) program.

USAID Director for Education Robert Burch encouraged the barangay chairmen and emphasized the direct role they can play in the lives of Mindanao children. "All of you can make a difference in your municipalities. You all have the power to change your communities. It starts with access to education."
Burch said that as heads of their respective towns, the chairmen can ensure that parents get their children to school. They can also make sure that schools are ready and safe, that teachers are available and have access to materials. He urged them to do what they can to help keep children in school and see to it that they continue on to high school until they finish higher education. "If they drop out, they won't realize their full potential and they won't get a good job," Burch reminded as he assured USAID's and Synergeia's continued support. "All are here today because you are committed to quality education. I assure you that USAID and Synergeia are here to support you so that all the children of Maguindanao will reach their full potential."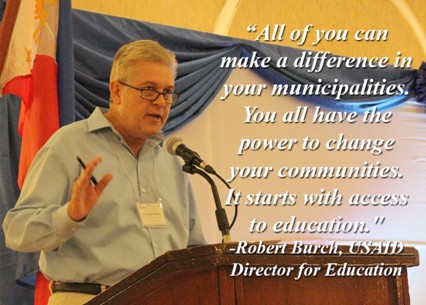 Synergeia Trustee and former Ateneo President Fr. Bienvenido Nebres likewise urged the barangay leaders to be more involved in raising the quality of education in ARMM. He cited two top issues normally identified in the region, poverty and Rido (clan feuds) that prevent children from going to school regularly. "These can't be solved by DepEd," Fr. Ben said. "Nasa inyo talaga (It's in your hands) to fix those problems in your community. Barangay captains can do a lot. Things can change if we work together for education reform – mayors, principals, teachers, parents and the community."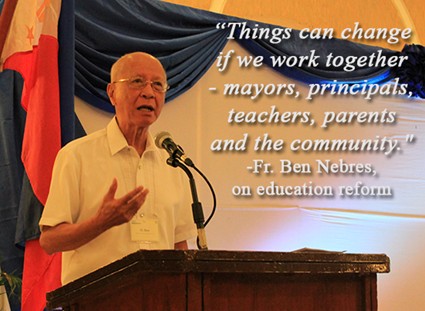 Another Synergeia Trustee Miguel Dominguez, who realized milestone changes for education when he was governor of Sarangani, challenged the barangay heads to carve out a meaningful legacy during their own terms as town chairmen. "What do we want the people to remember? What kind of story do we want to hear? We want them to not just see but also feel that we've done our work as fathers and mothers of our towns." He expressed hope that the EdGE workshop would make partners out of the barangay heads and be symbols of change just as their mayors are.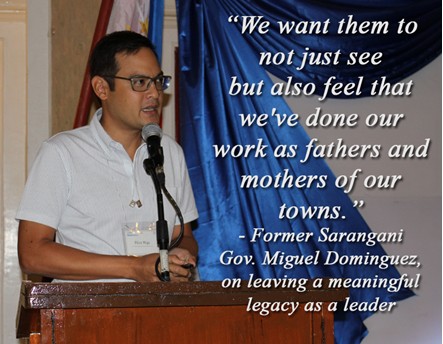 Dominguez acknowledged the Maguindanao mayors who graced the activity with their presence to further their commitment to the EdGE program – Mayor Ramon Piang of Upi, Mayor Pong Pendatun of Gen. Salipada K. Pendatun, Mayor Toto Sinsuat of Datu Blah Sinsuat, and Mayor Alan Angas of Sultan Sa Barongis.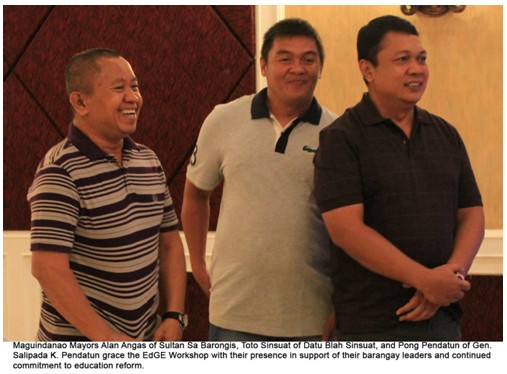 Mayor Piang shared the challenges he faced and the measures he took to improve Upi's educational standards. He urged his fellow mayors to support barangay leaders and to keep them actively involved in education reform with measures such as the formation of the barangay school board.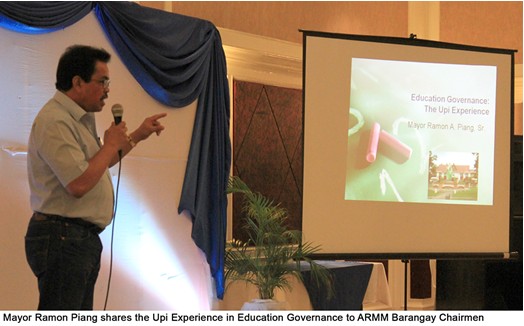 Over 90 barangay leaders from 10 municipalities in ARMM participated in the EdGe Barangay Leaders Workshop held on May 22-23 at the Apo View Hotel in Davao City.
---