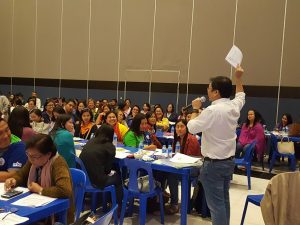 Vigan is a dream destination. Recognized as a UNESCO World Heritage Site, Vigan experiences the cool northeast winds in February which bring the temperatures below the 20s. One walks the cobblestone streets, is charmed by colonial era architecture, and soaks in its rich history. For the Synergeia team that went to Vigan on February 5-6, 2018 for a Remedial Reading Workshop, one of the highlights though was seeing up close three men whose dedication towards uplifting the level of education is commendable.
We were fortunate to meet Mayor Juan Carlo Medina and hear him speak enthusiastically about his administration's thrust to improve education. Mayor Medina is a young first-termer local chief executive. He says with humility that he is still learning the ropes and looks up to Former Governor Lito Coscoluella as his mentor. He realizes that all stakeholders must hold hands and work together to deliver quality education to the children. The effort to do so does not only depend on teachers nor parents but requires the cooperation of everyone including the city government. This he emphasized when he spoke before the participant-teachers and DepEd officers in the Remedial Reading workshop.
City Schools Division Superintendent Anselmo Aludino was not only physically present during most of the workshop activities, it was under his directive that the 1 and a half day Remedial Reading Workshop was a full-house. The teachers took the opportunity to review the techniques and learn new strategies in teaching English and Reading to their students. As SDS Aludino said, "The success of our learners is in our hands. Turuan natin sila kung ano ang mga dapat matutunan."
Former Customs Commissioner Sunny Sevilla served as mentor in the reading workshop. From collecting customs duties and running after smugglers, can one imagine that F/Comm. Sunny would delight in teaching elementary school teachers about phonetic awareness, reading comprehension and story-reading techniques? One of the exercises he conducted was for teachers to develop a story from a situational sketch he gave. Three schools gave the most interesting stories and won token prizes from Synergeia. The teachers said the exercise made them work together and share ideas, imagine situations from a child's perspective and look at how to interject a moral lesson in the story.