Cagayan De Oro – One good turn deserves another. When Ms. Fe Perez-Agudo, the enigmatic chief of Hyundai Asia Resources Inc. (HARI), learned of the great need for school desks in Lanao del Sur elementary schools, she immediately pledged to donate a substantial amount for the purpose. Inspired by the move, each of the mayors from the six beneficiary local government units (LGU) matched the pledge, some by as much as 720%, to purchase more desks to benefit more children.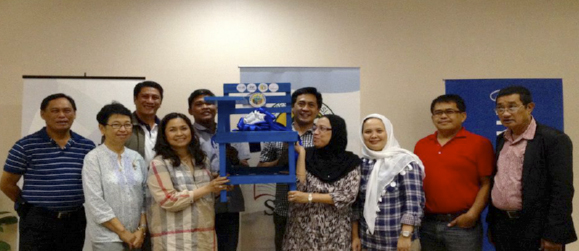 Left to right: Abdani Alonto(Marawi City, SB Chairman on Education), Milwida Guevara (Synergeia, President/CEO), Ali Sumandar (Mayor, Piagapo), Ms. Fe Perez-Agudo (HARI Pres & CEO), Amenodin Sumagayan (REA Chairman), Al Rashid Macapodi (Mayor, Ganassi), Raysalam Mangondato (Mayor, Balindong), Nashiba Sumagayan (Mayor, Taraka), Macmod Muti (Mayor, Saguiaran) and Jubairi Macaumbos(City Administrator, Marawi City)
During the ceremonial turnover on Dec. 11, it was reported that a total 1,490 new school desks are now being used in 17 elementary schools. HARI Foundation's initial fund of P140,000.00 for the desks was divided equally between six LGUs. This amount ballooned to P511,200.00 with the LGU counterpart funds. Balindong City shelled out P151,200.00 to add to the P20,000.00 it received. The Municipality of Saguiaran came up with P80,000.00, Calanogas with 40,000.00, Marawi City and Taraka with P30,000.00. Kapatagan and Ganassi contributed an additional P20,000 each.
"I believe that our efforts will have an impact on the children," Ms. Fe Agudo said in Filipino. She expressed eagerness to have more desks produced to benefit more schools. She earmarked another amount of equal value for the desks in 2014. This is on top of a larger budgetary support by HARI that is reserved for teacher trainings and other educational programs undertaken in partnership with Synergeia Foundation and the Lanao del Sur mayors alliance.
Piagapo, a new Synergeia member municipality will be an additional beneficiary of the next batch of school desks. Mayor Ali Sumandar expressed gratitude to his fellow mayors for recommending him to be a member of Synergeia since he deems quality education to be a solution to lowering poverty. "In behalf of the town of Piagapo, taos puso kaming nagpapasalamat at masaya kami na masasali kami sa lahat ng magandang programa ng Synergeia."
---