After three years of "absence", the much-anticipated Tipanan returns on February 20-22, 2009 at the WOW Philippines Clamshell 1, Intramuros, Manila. Tipanan celebrates significant progress in education reform throughout the country over the past years. Once again, the event honors the Filipino child, with its theme, "Rekindling the Filipino Identity Among our Children".
Tipanan '09 offers a good mix of educational and entertaining activities that aim to promote among kids what is truly Filipino.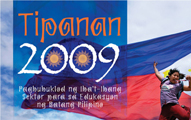 There will be animated storytelling sessions featuring folktales from the different regions. Schools will compete in a sportsfest of folk games dubbed as "Pinoy-lympics". "Dugtong-Bugtungan Tayo," a game on Filipino riddles, is bound to tickle the minds of children, while "Ola Saranggola!" a session on kite-making and flying, will surely fascinate them. Even adults will enjoy the activities, including a concert of Filipino kundimans and a culinary workshop on dishes from the regions aptly called, "Lutong Bahay".
A better and bigger Tipanan is expected this year, with some of the top academic institutions collaborating with Synergeia Foundation and its partners to mount this three-day event.
Admission to Tipanan'09 is free. For more details, contact Synergeia at 898-2913 or 898-2617.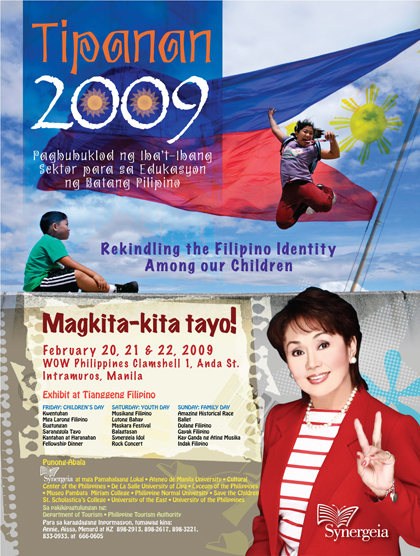 ---