2. Moving the Community to Action
Moving community members to action started by giving them power through information. People act based on what they know about an issue. Convening an education summit gives urgency to the goal of arresting the deterioration in the quality of basic education. Through a summit, parents and other community members learn how their children perform in school. More importantly, stakeholders are given the opportunity to suggest ways on how inadequacies can be addressed and how they can be involved in the program.
To involve more members of the community in the program, the municipalities of San Nicolas and Itogon conducted an education summit. During the education summit, the mayors presented the performance of their children in the NAT as well as other education indicators such as drop out rates, textbook ratio and conditions of school facilities. This was the opportunity for parents and the greater community to learn about how schools are doing in their towns.
After the State of Education Address, parents were divided into workshop groups wherein they answered and discussed their answers based on the following questions: (1) what are your dreams for your children; (2) what factors prevent you from achieving these dreams; and (3) what they will do to help their children become better learners. The workshop introduced participants to the technology of metacards, which allowed all members of the group to participate in the discussion. Through this exercise, parents and teachers learned how to listen to each other. They also realized the value of their inputs and ideas.
Inputs from the summit were compiled by the PMTs and integrated in the Reading program. Among the must-dos from the summit: training for teachers, workshop for parents, feeding program and building libraries for schools.
There have been some difficulties in scheduling the education summit for the municipality of San Manuel. This was mainly due to a misunderstanding between Mayor Perez and the DepEd supervisors, which affected the program. The issue was eventually ironed-out, with the help of Mr. Tommy Valdez. San Manuel has decided to schedule its summit in the coming school year in June 2008.
3. Learning Instruments for Students and Teachers
As raised during the PMT training, limited access to instructional and reading materials is one of the factors why children in the San Roque sites do not do well in reading exams. To address this issue, the Reading Program provided each student with his/her own workbook.
The workbooks complement Grade I textbooks in Reading and cover lessons for the entire school year (2nd-4th grading period, since 1st grading is devoted to the Early Childhood Education Curriculum of DepEd). These are intended to reinforce learning inside the classroom. By providing students with work exercises on their day-to-day lessons, they are able to develop and improve their mastery of the subject. The exercises enable them to interpret lessons learned, make inferences and apply these to new situations. Exercises provide opportunities in the development of creativity. Pupils are encouraged to make drawings, compose songs, and recite poems using new sounds and words.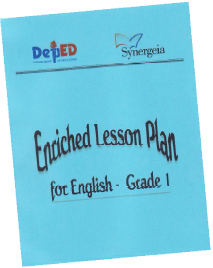 At the same time, all grade one teachers received a Teachers' anual, which complements the student workbooks. The manuals provide teachers with a ready reference for their daily lessons. It provides enough inputs for the teacher to fully discuss the different topics programmed for the entire school year, while incorporating value formation as well as fun and enjoyment in the learning process. The lessons include activities such as games, poem/rhyme recitation, group
singing and storytelling.
A total of 3,694 workbooks in Reading and 222 teachers' manuals were distributed to all grade one students, grade one teachers and school principals in San Manuel, San Nicolas and Itogon.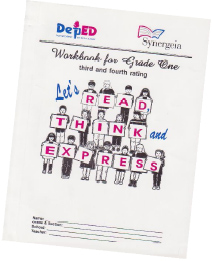 4. Re-discovering the Joys of Teaching
To build their capability in Reading instruction, 84 teachers and principals from San Manuel and San Nicolas and 62 teachers and principals from Itogon participated in a two-day training entitled, "The Joys of Teaching: A Review and A Fellowship".
The training provided teachers with a much-needed refresher course on the basics of reading as well as introduced them to effective modes of instruction. The training for teachers and principals of San Manuel and San Nicolas was held jointly with teachers and principals from Natividad on September 21 and 22, 2007 at the San Roque Dam in San Manuel, Pangasinan.
Initially, arrangements were made to hold the teachers' training for Itogon in the municipality. However, since teachers will be coming from far-flung barangays, the need for accommodations arose. Given that there was no suitable and cost-effective lodging in Itogon, it was decided that the training will be held in San Roque Dam where the teachers could be adequately accommodated. The Itogon training was held separately on October 12 and 13.
The Synergeia training module served as basis for the teacher training. It is designed to:
Influence teachers to help their children enjoy reading by developing skills in storytelling and story-reading
Help teachers say the sounds well particularly those where they have "regional limitations", e.g. /e/, /i/, /a/, /o/, /u/
Develop among teachers the skills that will enable their students to decode words
Help teachers to understand and use the "Fuller method" in saying words.
Introduce teachers to a variety of strategies to develop comprehension
Encourage teachers to be creative to develop thinking skills and integrate arts, music,movement, poetry, songs, values, into the reading program
Notable resource persons from the University of Pangasinan (UPang), a Synergeia partneruniversity, were the peer-trainers for the workshop. Dr. Ofelia Rayos, Vice- President for Academic Affairs, Dr. Tito Rocaberte and Ms. Doris Tuano, took time out from their busy schedules to conduct the training for teachers.
The two-day workshop was devoted to the following topics:
Importance of and Theories in Reading
Methods for Decoding words
Structural Analysis of Words
Learning the Vowels and Consonants
The Fuller Method in Teaching Reading
Developing Comprehension
The Four-Pronged Approach in Teaching Reading
Enrichment Activities
Synergeia's Benchmarks in Writing, Listening and Speaking
The whole morning session of the first day was devoted to story reading. Facilitators from Museo Pambata mentored teachers on how to be effective storytellers. Afterwards, teachers had their chance to show what they learned through a return-demonstration. It came to no surprise that teachers were talented performers – they told stories in varying tones and with much gusto. Some even did a simple skit / drama. Afterwards, they enjoyed doing an arts-and-crafts session and learned how to integrate this activity as an enrichment to their storytelling/story reading sessions.
After the sessions with Museo Pambata, UPang trainers took over. Participants were divided by municipality to better manage the sessions. UPang resource persons led teachers in the pronunciation drills and grammar exercises. They demonstrated how lessons can be taught more effectively which resulted in an enjoyable activity for teachers as they were able to act out as students in a class.
UPang trainers noted that the teachers were very enthusiastic to learn and were wellprepared. During the construction of teaching devices and demonstration classes, they showed creativity, resourcefulness and knowledge of the material. Many of the participants said they felt happy, overwhelmed and thankful about the training, from which they gained a lot of information. Most agreed that the training, particularly the workshop exercises, was fun. They expressed deep appreciation for the new methodologies they learned from the activity